Big Pigs in a Blanket
ketogenic diet meal plan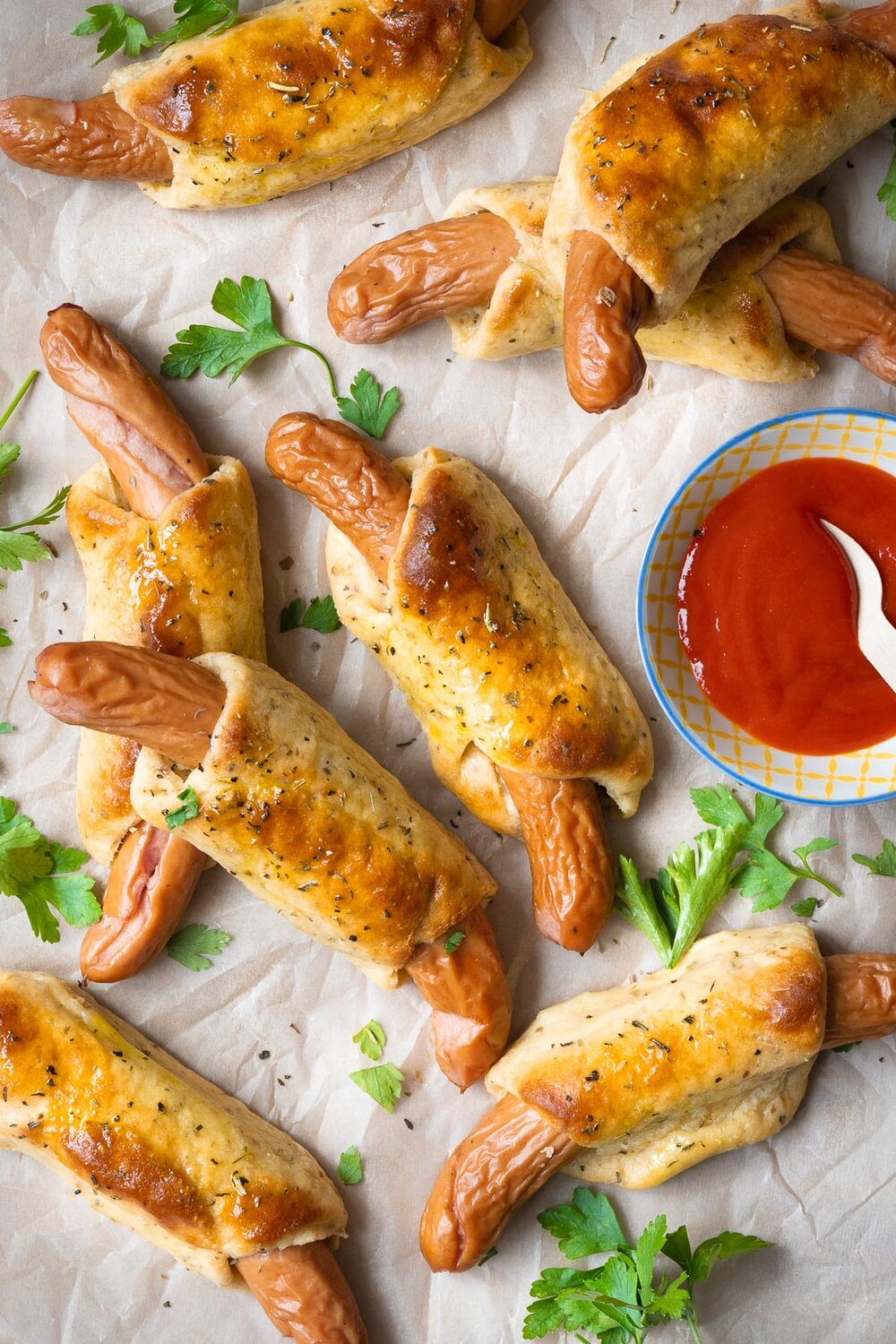 A summer time staple!! No need to miss out on a bun with your hotdog this summer!! These are dangerously good! So good your kids will be tossing those soft white store bought rolls to the side and begging for one of these!! Dig them in your favorite sauce or some sugar free ketchup!
Big Pigs in a Blanket
Makes 8 Servings
1 Serving: 252 Calories, 17g Fat, 5g Carbs, 14g Protein
Start to table time: Less than 20 mins
1 Recipe of Never Fail Rolls Dough
8 Natural Hot Dogs(look for ones without sugar added or at the very least no more then 1g carb)
1 Tbsp Everything Bagel Seasoning or Italian Seasoning
Directions:
1. Heat the oven to 400F.
2. Separate the dough into 8 equal portions.
3. Roll the dough into little circles and be careful not to go too thin(it should be roughly 3
inches wide).
4. Take the hot dog and use a fork to poke a few holes in it. Then place the hot dog on the
circle of dough.
5. Roll the hotdog up in the dough. Sprinkle the seasoning over the top and bake for 15
mins. Enjoy with your favorite condiments, bacon, or keto chili.
Tips:
1. For vegetarians substitute with halloumi or tofu cut into thick
Keto4Karboholics Never Fail Dinner Rolls
Makes 8 Rolls
1 Serving: 202 Calories, 16g Fat, 3g Carbs, 11g Protein Start to table time: Less than 30 mins
1 1/2 cup shredded part skim mozzarella cheese
2 ounces cream cheese
1 large egg
2 tsp garlic powder
Directions:
1 tsp oregano
1 1/4 cup almond flour
2 tbsp Ground Flaxseed
1/2 tsp baking soda pinch of salt
1. Melt the mozzarella and cream cheese together in a microwave-safe bowl for 1 minute. Stir, then heat another 30 seconds.
2. Scrape the cheese into the bowl of a stand mixer with the paddle or bread hook and mix on medium for 1 min. **You can also use your hands just dampen them with water**
3. Add the egg and mix until blended. Add the dry ingredients and mix until thoroughly combined (about 3-4 mins).
4. Spray a piece of cling film/saran wrap with oil and scrape the bread dough onto the center of the cling film. It is VERY STICKY. Place in the freezer to cool until the oven is ready.
5. Preheat the oven to 400 degrees F and position the rack to the middle of the oven.
6. Line a cookie sheet with a piece of parchment or a Silpat.
7. When the oven is ready, remove the dough from the freezer and break apart into 8
pieces (dampen your hands with water to make handling it easier).
8. Use your hands and roll a portion of dough into a ball and drop it onto the prepared
cookie sheet to flatten the bottom. Repeat the process for the remaining dough. Make a
small slit in the top.
9. Bake for approximately 13-15 minutes until the dough browns. Enjoy!
#keto #ketodiet #ketoweightloss #ketolife #ketolifestyle #ketomom #ketogenic #ketogenicdiet #ketogeniclifestyle #ketogenicweightloss #ketogeniclife #lowcarb #lowcarbs #lowcarbdiet #lowcarblife #lowcarbfood #weightloss #losingweight #weightlossgoal #weightlossgoals #weightlossstory #flabtofab #fitmoms #healthymom #lchf #fitmomsofig#glutenfree #grainfree #iquitsugar #ketofam
Recipes – Keto4KarboholicsKeto4Karboholics
Kassey Cameron
ketogenic diet meal plan