Chicken Pot Pie
ketogenic diet meal plan
New Chicken PotPie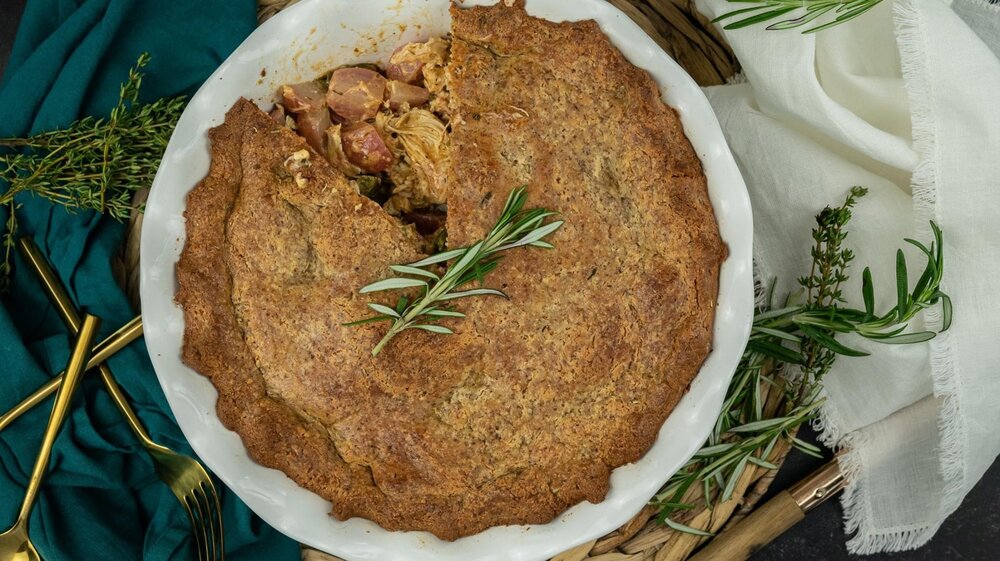 Makes 6 Servings
1 Serving: 664 Calories, 53g Fat, 6g Carbs, 34g Protein
Start to table time: 1 hour
Crust:
2 Cups mozzarella cheese, shredded
4oz cream cheese
2 eggs
2 1⁄2 Cups almond flour
1 1⁄2 tsp baking powder
1 tsp apple cider vinegar
1⁄2 tsp rosemary
1⁄2 tsp thyme
1⁄4 tsp salt
Filling:
1 1⁄2 Cup radishes, quartered (234g)
1 Cup green beans, chopped (145g)
3⁄4 Cup celery, chopped
0.5 lbs cooked and shredded chicken (you can use shredded rotisserie chicken to make it easier)
1 tsp thyme
2 tsp parsley
Sauce:
3 Tbsp butter
1⁄2 tsp xanthan gum (omit for a thinner sauce)
1⁄2 Cup heavy whipping cream
1/4 Cup chicken broth
3 bay leaves
1⁄2 tsp thyme
1⁄2 tsp paprika
1⁄4 tsp cayenne
1/4 tsp salt
1⁄4 tsp black pepper
Directions:
1. Melt the butter in a saucepan over medium heat, whisk in the broth, cream, and xanthan gum and whisk until smooth and the mixture starts to bubble. Then lower your heat to a gentle simmer. Add all the seasonings and herbs.
2. Cook, whisking often, until the sauce has thickened . Remove the bay leaf and set the sauce aside.
3. Preheat the oven to 425F.
4. While the oven heats melt 2 Tbsp of butter in a large pan. Toss in the vegetables and sautéed for 2-3 mins. Add to the sauce and mix.
5. In a large microwave-safe bowl begin the crust, melt together mozzarella and cream cheese in the microwave for 1 min then stir with a nonstick spoon and melt for an additional minute until its smooth. Add 1 egg and stir to combine, then stir in almond flour, baking powder, and vinegar. Use your damp hands to really kneed it together. Season with salt, rosemary, and thyme.
6. Take 1/3 of the dough and press it down into a well-greased pie plate. Bake for 8 mins.
7. Then add the veggie/sauce mixture into the pie plate.
8. Take the remaining crust and roll it out between two pieces of parchment paper. Top the pie. Then bake for 30-35 mins. Allow to cool for 5-10 mins before
Recipes – Keto4KarboholicsKeto4Karboholics
Kassey Cameron
ketogenic diet meal plan